ARTIFICIAL INTELLIGENCE – COMPUTER SCIENCE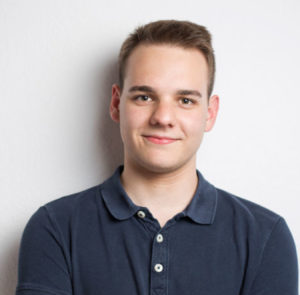 Hi, I'm a Software Developer working in London.
I recently completed a Masters in Intelligent Systems at the University of Sussex. I am proficient at machine learning, neural networks, big data, natural language processing, software development with version control and different types of group project management methodologies such as Agile and Waterfall. Click here for more skills.
---
Work experience:
I am currently a Software Developer for Yobota, a vibrant fintech in the heart of London. Learn more about Yobota and how financial services will change in the near future. www.yobota.co.uk
In 2015 I interned at C.E.R.N. where I worked with an engineering team and where I also developed an application for the department. Many interesting projects were completed during the university years, which you can explore in the Projects section.
---
Masters in AI:
My Masters in Intelligent Systems expanded my knowledge of machine learning, decision trees, image processing, human-computer interaction, human consciousness, and the ethics of robotics.
My thesis involved creating a robot that would learn its environment through a neural network and could predict its next move to help the speed of problem solving through space. The simulated vehicle used two light sensors to try and direct itself towards the light, and would use the its environment model to test new behaviours offline.
---
I enjoy attending hackathons because I always learn something new and get to practice teamwork with people of different skills.
Hackathon highlights:
The Rolls-Royce Starlight Challenge involved constructing a Starlight Headliner and animating it using an Arduino, LED boards and fibre optics. Our project made it to the best 3 teams of the hackathon, and impressed the Rolls-Royce representatives.
Our submission at the Global Game Jam 2018 was a multiplayer online game named Murder with Friends where a player has to survive waves of monsters and avoid traps triggered by other players. Players can use their phones to control the environment and try and defeat the character lost in a creepy dungeon.